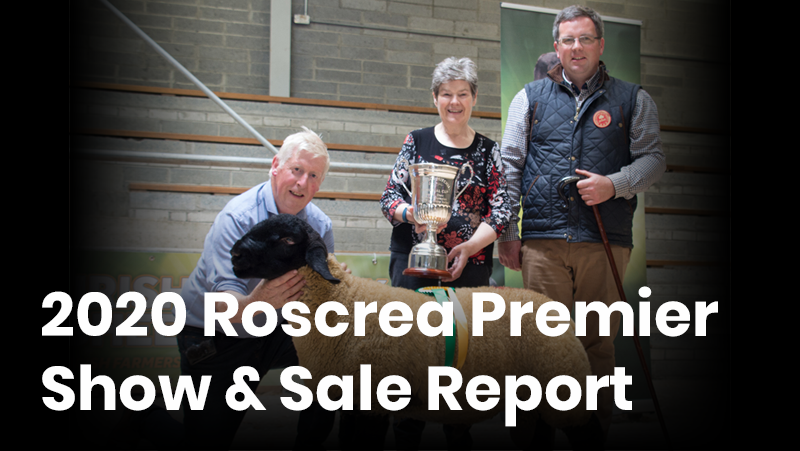 The Irish Suffolk Sheep Society held its second Premier Show & Sale at Roscrea Mart on Saturday last. Based on last year's success the sheep presented were presented again in 2020 in their natural state. Buyers and prospective buyers were delighted with this and it resulted in an excellent sale, with the exception of the Supreme Champion of the Show, which was purchased by the Judge Stephen Govin, from the Coolmeen Flock in Co. Mayo; every purchaser was a commercial a sheep breeder and every purchaser went home with a natural feed sheep together with EU Pedigree Certificate. With over 80% clearance of Ram Lambs, demand outstripped supply in the Shearling Ram Section and with the end of sale returning some of the strongest prices its success speaks for itself – most vendors retuning home with empty trailers and satisfied customers returning home, from as far away as Donegal and Kerry, delighted with their purchases.
Supreme Champion of the Show was captured by Dennis Lynch and Sons Moatfarrell, Ballinalee, Co. Longford. (Flock established in 1949), this late January born lamb also claimed the honour of Male Champion of the Show and 1st prize in the Open Ram Lamb Class. This was the first lamb shown by the main flock stock ram Burnview Magic. Burnview Magic was sired by Forkins Ferrari II. His dam is Willy Tait's great breeding ewe T86 13082. Who has bred numerous high price selling rams, she is the dam of Burnview Hitman II one of the top rams in the Suffolk world.
Reserve Supreme Champion went to Galway breeder Mark Grealy of the Oranmore Flock; The Grealy family are successfully breeding Suffolks since 1970 and over the years has captured many rosettes for his Suffolk progeny. His Reserve Supreme Champion, was also tapped out as Reserve Male Champion and 1st prize winner in the Recorded Class. This substitute four star twin lamb is sired by Mountford Commander out of a dam sired by Bawnogue Cuchulainn.
Female Champion and Reserve Female Champion went to another Galway breeder Michael Murphy of the Moneen Flock; Michael is a breeder since 1983; since establishing his flock Michael has also captured many rosettes both for his Suffolk and Texel progeny. This five star mid-January born Super Ewe lamb sired by Balckbrea Gigot; Dam sired by Cleagh Tornado.
Shearling Rams: 1st Prize winner Richard Moore from the Columbkille Flock in Kilkenny (Established in 1956). Richard's five star Shearling sired by Cairness Candy out of a homebred ewe sold to a local farmer. John Martin Wexford Duncormick Flock (established in 1960) sold his Shearling ram for €1,000.00gns to a Kerry Farmer who also purchased three ewe lambs. Such was the quality of William's Hutchinson's Shearlings that all three were snapped up by the same commercial breeder. William is a long standing recognised Suffolk Sheep Shearling Breeder from Co. Kilkenny having established his flock almost 30 years ago.
Marian Murphy went home to Kildare again this year with an empty trailer having sold her two young ram lambs. Mat Pearse sold both his two Ewe lambs and this three Ram lambs. James Rooney from Sligo sold his ram lambs at €970gns: €750.00gns and €700.00gns respectively.
Brothers Greg & Tom Rossiter returned to Wexford happily having sold their five ram lambs. The first two Ram lambs into the ring were from Greg's Flock, they realised €640.00gns & €800.00gns respectively. This gave a great start to our sale which continued in this vein throughout and with buyers hungry for this type of stock.
The day turned out to be a great event for our judge Stephen Govin, from the Coolmeen Flock , Stephen was faced with classes of up to 14 /15 ram lambs but his experience and professionalism he carried out his task in lining up the winners very effectively. Sincere thanks Stephen for his patience and time and congratulations on purchasing the Supreme Champion of the Show.
Grateful thanks to our sponsors SJCU; AW ENNIS for the Rosettes and to FBD for sponsoring our advertising, our auctioneer George Candler and finally as always to Michael Harty General Manager Central Auctions, Noel O'Grady Yard Manager and all staff in Roscrea Mart where we look forward to returning there again in 2021 on the same day for the same event. On Saturday, Ray Dempsey, the esteemed Chairman of Central Auctions said farewell to us as he is planning to step down as Chairman later this year. Having dealt with Ray since 2004 I recognised him to be a true gentleman, always smiling and bending over back ways to facilitate us. Rays commitment, dedication and loyalty to Central Auctions are unrivalled. The Irish Suffolk Sheep Society wishes him a long, happy and healthy retirement together with his wife Mary.
With over 100 members now signed up the Society is going from strength to strength.
The Irish Suffolk Sheep Society was formed with the following ethos;
To produce fit sheep/rams for the commercial farmer that are fit for purpose.
To produce the type of Suffolk that the commercial market demands with emphasis on the early finishing ability of the Suffolk.
To produce and sell a finer boned sheep in their natural state.
To conduct sales that are genuine and transparent and reflect the true value of the sheep on offer.
To work closely with Sheep Ireland who compile the flock book.
We are a registered Company with the CRO: having our status recognised nationally and are registered with Revenue. We have our own Tax number and Bank Account. We have now been approved for EU Pedigree Registered Certification from the Department of Agriculture Food and the Marine under EU Regulation 2016/1012: this licence provides us with recognition of the Pedigree status of our sheep throughout Europe with all breed Societies. Our Flock book is held by Sheep Ireland, a wholly Irish Company supported by the Irish Government and co funded by the Department of Agriculture this means that every sheep sold and purchased through us will have its Zootechnical Pedigree Registered Certificate.
In recent years farmers complained that the Suffolks presented for sale were too big i.e. big legs and big heads. Our aim is to produce hardier and more commercial type of Suffolk Sheep presented for sale in their natural state. The Suffolk is the oldest pedigree breed of sheep in the world having been in existence for over 130 years. The Irish Suffolk Sheep Society know that the commercial breeder and store lamb finisher recognises that no lamb will grow like a Suffolk and this fact is well documented by research carried out by TEAGASC. The TEAGASC flock is now a member of the Irish Suffolk Sheep Society.
Whether the commercial farmer is operating a fat lamb enterprise, a store lamb enterprise or looking to breed flock replacements the only one question to ask himself/herself is which type Suffolk ram they are going to buy. The answer is a Suffolk Ram presented in its natural state.
Prize Winners
Supreme Champion: Dennis Lynch & sons
Reserve Champion: Mark Grealy
Male Champion: Dennis Lynch & Sons
Reserve Male Champion: Mark Grealy
Female Champion: Michael Murphy
Reserve Female Champion: Michael Murphy
Ewe Lamb Class
1st Michael Murphy
2nd Michael Murphy
3rd Matt Pearse
4th Matt Pearse
5th Rory O'Connor
Shearling Ram Class
1st Richard Moore
2nd Michael Clarke
3rd John Martin
4th Michael Clarke
5th William Hutchinson
Sheep Ireland Recorded Class
1st Mark Grealy
2nd James Rooney
3rd Matt Pearse
4th James Rooney
5th Greg Rossiter
Open Ram Lamb Class
1st Dennis Lynch & Sons
2nd Matt Pearse
3rd James Rooney
4th Mark Grealy
5th Dennis Lynch & Sons
Pair of Ram Lambs
1st James Rooney
2nd Matt Pearse
3rd Mark Grealy
4th John Martin
5th Michael Murphy.