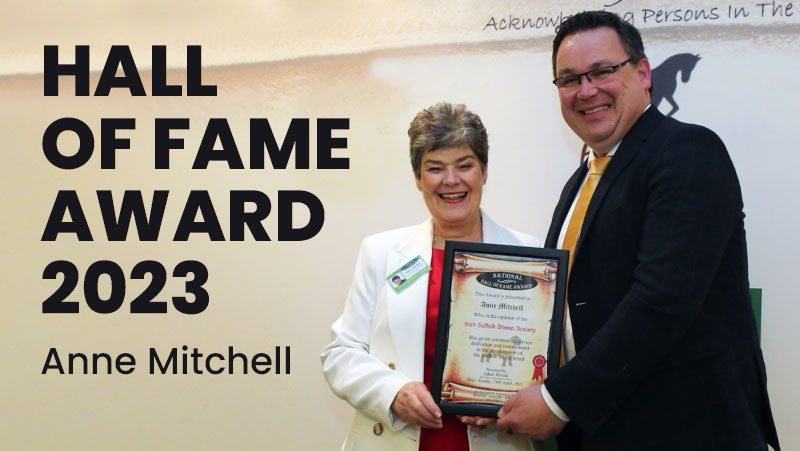 Together with her late husband John Joe, Anne purchased their first Suffolks in 1973, from Frank Harrington and the late John Kenny and registered their flock, Knockavilla Suffolks in 1975.
Anne became actively involved in the West of Ireland Purebred Registered Suffolk Club in 1976. Working diligently to promote the Suffolk Breed, organise promotional events, arrange shows and sales and source sponsorship.
In 1995 she was elected on to the National Committee of the Suffolk Society and became National Honorary Secretary twenty years ago. Anne's focus has continued to concentrate on the promotion of the breed, encourage sheep breeders to get involved in breeding Suffolks and help them enhance their flocks by introducing top quality, registered purebred Suffolks rams into their flocks.
As well as continuing to carry out her Secretarial duties she has always been a great ambassador for both the Club and the Society. Anne's working hours for the Society are 24/7 and she consistently deals with queries from breeders and customers alike in a very cheerful pleasant manner endeavouring to bring all matters to a successful conclusion. Her wealth of 50 years knowledge with Suffolk Sheep breed and Society shines through to everyone who has reason to interact with her: she remains constantly connected to her fellow breeders and to the Committee of the Irish Suffolk Sheep Society.
Photo: Anne is pictured receiving her award from Adam Woods, Beef Editor of the Irish Farmers Journal.