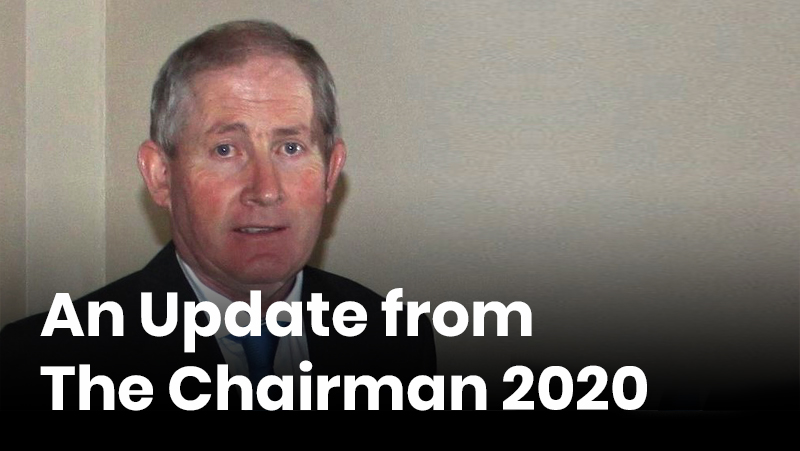 2020 was an extraordinary year for all for the wrong reasons. I can only hope that you and your families are keeping safe and well. For the foreseeable future we will have to live and work within the guidelines that have been laid down, while we hope and pray that the country will get on top of the virus sooner rather than later. As a result of Covid our AGM has been postponed until early spring. Our accounts have been audited and thankfully our finances are in a very healthy position. Our membership is growing steadily particularly among new breeders starting out with Pedigree Registered Suffolk Sheep.
The Irish Suffolk Sheep Society's EU recognised status has left us in a very strong position as we enter post BREXIT era. All Sheep from the Irish Suffolk Sheep Society members are eligible to enter any Suffolk Flock book in Europe. There will be opportunities for breeders to exploit these markets if they so wish.
I would encourage all our members to join the Sheep Ireland flock recording scheme. As a Breed Society we need to continue to promote the fact that we are trying to produce performance recorded rams, suitable for the needs of Irish commercial sheep farmers. From 2021 all sires used by breeders in the Lamb-Pus Scheme must be Genotyped in order to get star ratings for their sheep. Genotyping of sires is important in any flock and it would also be good practice to Genotype all females entering the flock each year so that in a few years all sheep would be validated. Bering able to parentage verify any sheep going to a sale would greatly enhance their value.
The Irish Suffolk Sheep Society are in a very fortunate position to be established and signed up with Sheep Ireland in the handling of all our flock book needs – a wholly Irish owned company with a world class data-base. Their system is very user friendly and through our registrar our Pedigree Certificates are generated very quickly.
Our Premier Sale in Roscrea this year was a resounding success, sheep presented and offered for sale in their natural state has become most appealing to the commercial purchaser. While the Irish Suffolk Sheep Society continues to offer Suffolks in their natural state their sales will continue to grow and thrive. Our sincere thanks to our judge, Stephen Govin and as always to Michael Harty, Manager of Roscrea Mart and his dedicated staff who continue to assist us in every way possible. I want to acknowledge with gratitude all the people who supported us during 2020 – our Sponsors and our loyal customers. Every member of our Committee who were available at short notice to lend a helping hand when and where needed. A special thanks to our Honorary Secretary, Anne Mitchell and to our Registrar Ursula Rooney for their efficiency and expertise in ensuring that all aspects of the Society, from application to registration run smoothly on a daily basis.
The Irish Suffolk Sheep Society will continue to work together for the good of our breed and the good of all our members and customers.
Richard Moore, Chairman
November 2020