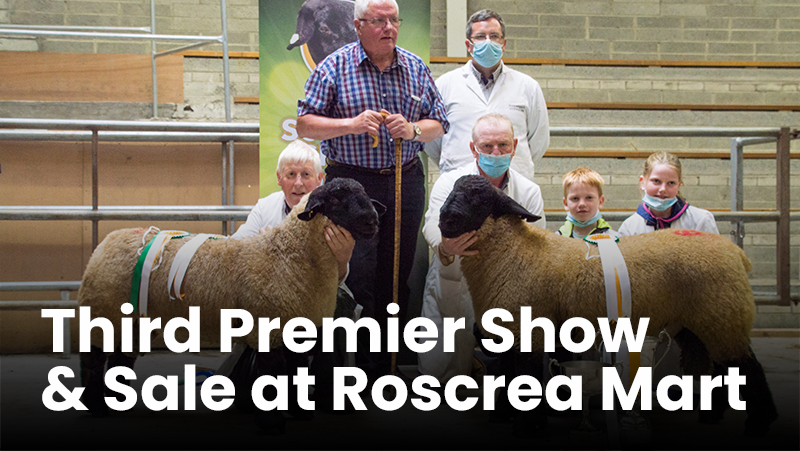 The Irish Suffolk Sheep Society held their third Premier Show & Sale at Roscrea Mart on Saturday 7th August. Again, based on its two previous years success sheep were presented in their natural state to the delight of the buyers resulting in a 92% clearance of Ram lambs; with 95% of the overall sheep sold going to commercial buyers this speaks for itself. At the end of the sale there were still prospective buyers in the ringside; on line bidding was very brisk as well. One buyer whom has returned each year to make a multiple purchase of ram lambs for his large commercial flock said he is more than pleased with the quality of the ram lambs on offer at this sale. The introduction of rams naturally fed and introduced into his flock leaves him feeling confident that what he sees is what the gets. This year buyers from 19 of the 26 counties went home with a purchase from the sale. For the Irish Suffolk Sheep Society this is the endorsement that proves there is a hugh demand for this type of product.
Retired Suffolk Breeder, Oliver Conway, tapped out a January born ram lamb from the Oranmore Flock of Mark Grealy as his choice for Supreme Champion. Marks January born lamb was sired by Birness Titanium. Titanium sired by Crewlands Megastar. This Champions home bred dam was sired by Mountford Commander whose grandfather was Cloontagh Chieftain was Champion in Roscrea 2015. This lamb also claimed the honour of Male Champion of the Show and 1st prize in the Open Ram Lamb Class. He was sold in his natural state at a price tag of €1,400.00 gns to a Donegal Breeder. Marks success did not stop there, two other of his ram lambs secured first place in the pairs; these two lambs sold for €1,300.00 & €1,000.00 gns respectively while a fourth lamb from his flock went to a home in Tipperary with a price tag of €1,300.00gns.
Supreme Reserve Champion of the Show was captured by Pat Lynch, Ballinalee, Co. Longford who runs the Monadarragh Flock; this mid-January born lamb, sired by a very good breeding ram Burnview Magic who sired the The Monadarragh 2020; out of a home bred ewe by Burnview Gin & Tonic. Champion also claimed the honour of Male Reserve Champion of the Show and 2nd in the Open Ram Lamb Class.
Oliver choose a Sligo born Ewe Lamb as Female Champion and first prize winner in the ewe lamb class from the Benwiskin flock of James Rooney Sligo. Sired by Cairness Candy, son Cloontagh Chieftain Roscrea Supreme Champion 2015. The Dam is a home bred ewe by Benrafton Jack son of Cairness Ignition. The Reserve Female Champion and first prize winner in her class was also from the same flock – Benwiskin; A Shearling Ewe sired by Benrafton Jack son of Cairness Ignition purchased as a lamb from Norman Robinson Co. Down. Dam home bred ewe by Baileys Godsend son of Cairness Diamond Jubilee. James sold his two ram lambs at €1,400.00gns & €950.00gns respectively.
Greg Rossiter from Wexford got the Red Rosette for his Shearling Hogget and sold for €1,200.00gns to a commercial farmer in Co. Monaghan. Greg was delighted to give some background information on his day's success telling me "Our top prize for the day saw us achieve first in the Shearling Ram class with lot No. 40. The success continued in the ring with the Shearling reaching €1,200.00gns. This was a great start for his sire Essie Extra, who was purchased jointly with Richard Moore and Michael Purcell of the Columbkille and Leaguan flocks respectively. The Essie flock holds some of the top UK Suffolk genetics and we are delighted with our ram's progeny. The choice to change our breeding plan and choose a ram with superior growth rates, lighter bone, and higher vigour, for our predominantly commercial customers has certainly paid off."
All the Wexford breeders went home with an empty trailers; John Martin of the Duncormick sold his two ram lambs for €1,200.00gns each. Willie Gleeson from the Wexfo flock sold all four of his ram lambs at €1,100.00gns; €800.00gns and two at €600.00gns respectively. Pat Rossiter brother of Greg's sold his two for €600.00gns each.
Bernadette & Zachery Silke, new breeders from Kinvara in Co. Galway had an excellent day's success realising €1,000.00 gns and €700.00 gns respectively for the female hoggets.
Matt Pearse from O'Brien's Bridge in Co. Clare put his seven ewe lambs through the ring and to the fall of the gavel he realised €850.00gns x 2; €700.00gns, €600.00gns; €600.00 gns €550.00gns and €500.00x 2. Five of these ewe lambs were purchased by the same buyer.
Dennis Lynch & Sons, Moatfarrell Flock sold all three ram lambs for €1,000.00gns, €800.00gns & €750.00gns respectively and a male hogget for €750.00gns. Michael Murphy Tuam as consistent as ever sold his two ram lambs for €850.00gns respectively.
William Hutchinson Kilkenny do sold two female hoggets at €550.00gns 7 €500.00gns respectively and secured €700.00gns & €675.00gns for two male hoggets.
James Vance Donegal on is first day out in Roscrea. Charlie Reilly from Longford sold all five females of mixed age for an average price of €450.00gns.
Richard Moore Kilkenny sold his four ram lambs for an average of €550.00gns.
As always we acknowledge with gratitude our sponsors; sponsorship is a very important ingredient in our success. To Flor Ryan from ANIMAX; Flor presented the winner of the Supreme Champion, Mark Grealy with 100 Allsure with Copper Boluses and an applicator on the day. Thank you also to AW ENNIS for the Rosettes and to FBD for sponsoring our advertising. Further sponsorship from Connolly Red Mills, MSD Animal Health, SJCU and Uniblock is gratefully appreciated. To our auctioneer George Candler, as always adds that extra touch of class and good humour to the sale; to Michael Harty General Manager Central Auctions, Noel O'Grady Yard Manager and all staff in Roscrea Mart a very sincere thank you and we look forward to returning there again in 2021 on the same day for the same event.
On Saturday, the Irish Suffolk Sheep Society was delighted to make a presentation to Ray Dempsey; esteemed Chairman of Central Auctions, Ray retired as Chairman in 2020. Having dealt with Ray since 2004, I and all our members in the Irish Suffolk Sheep Society recognised him to be a true gentleman, always smiling and bending over back ways to facilitate us. Rays commitment, dedication and loyalty to Central Auctions are unrivalled. The Irish Suffolk Sheep Society wishes him a long, happy and healthy retirement together with his wife Mary.
Whether the commercial farmer is operating a fat lamb enterprise, a store lamb enterprise or looking to breed flock replacements the only one question to ask him/her is which type Suffolk ram they are going to buy. The answer is a fully Registered Purebred Suffolk Ram presented in its natural state.
Prize Winners
Supreme Champion: Mark Grealy
Reserve Champion: Pat Lynch
Male Champion: Mark Grealy
Reserve Male Champion: Pat Lynch
Female Champion: James Rooney
Reserve Female Champion: James Rooney
Ewe Lamb Class
1st James Rooney
2nd James Rooney
3rd James Vance
4th Matt Pearse
5th Michael Murphy
Shearling Ewe Class
1st James Rooney
2nd James Rooney
3rd Zachery & Bernadette Silke
4th William Hutchinson
5th Zachery & Bernadette Silke
Shearling Ram Class
1st Greg Rossiter
2nd Richard Moore
3rd Dennis Lynch & Sons
4th Greg Rossiter
5th William Hutchinson
Sheep Ireland Recorded Class
1st Mark Grealy
2nd Mark Grealy
3rd John & Liam Martin
4th James Rooney
5th Richard Moore
Open Ram Lamb Class
1st Mark Grealy
2nd Pat Lynch
3rd John & Liam Martin
4th Richard Moore
5th Michael Murphy
Pair of Ram Lambs
1st Mark Grealy
2nd Pat Lynch
3rd John & Liam Martin
4th Greg Rossiter
5th Michael Murphy