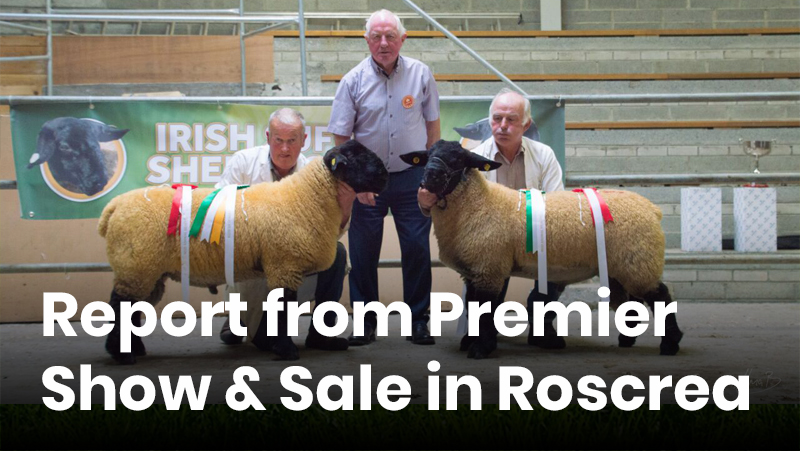 REPORT FROM PREMIER SHOW & SALE AT ROSCREA MART ON SATURDAY LAST 3RD AUGUST, 2019.
The Irish Suffolk Sheep Society was set up by Irish Pedigree Suffolk Sheep Breeders for Irish sheep farmers; The Society held its first Show & Sale at Roscrea mart on Saturday last. This was a unique event as the sheep presented were presented in their natural state. Buyers and prospective buyers were delighted with this and it resulted in an excellent sale; with every purchaser going home with his EU Pedigree Cert in his hand.
Supreme Champion of the Show was captured by James Rooney Sligo of the Benweskin Flock; this January born lamb also claimed the honour of Male Champion of the Show and 1st prize in the open and in the pair of ram lamb classes was sired by Finvalley Three out of a home bred dam sired by Glenhead Grandmaster. It was later sold for €1,700gns. Another five star ram lamb of Rooney's which was placed 1st in the pair of Ram lamb class sold for €1,100gns this was followed by the sale of his final five star ram lamb that secured €780gs.
Reserve Supreme Champion went to Galway breeder Michael Murphy of the Moneen Flock; Michael is a breeder since 1983 and over the years has captured many rosettes both for his Suffolk and Texel progeny. His Reserve Supreme Champion, which was also tapped out as Reserve Male Champion and 1st prize winner in the Recorded Class as well as second prize winner in the Open Ram lamb class was a four star lamb sired by Malinhead Houndini out of a dam sired by Kells Tommy.
Female Champion went to Co. Clare: Matt Pearse of the Priorview Flock from brought the Green White and Gold Rosette to O'Briens Bridge in Clare for his mid-January born Ewe lamb; sired by Ballymacanon Olympic Star out of a homebred dam by Malinhead Bond sold for €825gns. She was 1st prize winner in the Ewe lamb Class.
Charles Reilly from Mohill in Co. Leitrim of the Drumhass Flock brought another Green White and Gold Rosette to Leitrim; His January born Ewe lamb sired by Ballygarrris Tomy out of ewe sired by Deburca was 2nd prize winner in the Ewe lamb class.
There was a very strong demand for Shearling Rams; with 90% clearance. Shearling Rams from the Flocks of John Matrin Wexford, Richard Moore and William Hutchinson both from Kilkenny and Charles Reilly Longford were snapped up at as high a price as €670gns. John Martin secured 1st Prize for his Kells Cuchulainn sired Shearling out of a ewe sired by Shannagh Olaf.
Mark Grealy went home to Galway, very happy, with an empty trailer have got €780gns, €710gns and €640gns respectively for this three ram lambs. Marian Murphy also went home to Kildare with an empty trailer also having sold her young ram lamb for €600.00gns. Brothers Greg & Pat Rossiter returned to Wexford happily having sold four of their five ram lambs.
The day turned out to be a great event for our judge Padraic Niland, Padraic bred started breeding Suffolks in 1972. Padraic was faced with classes of up to 14 /15 ram lambs but his experience he professionalism he carried out his task in lining up the winners very effectively. Sincere thanks Padraic for your patience and time.
Grateful thanks to our sponsors of the day MSD Animal Health and to FBD for sponsoring our advertising, our auctioneer George Candler and finally as always to Michael Harty and is staff in Roscrea Mart where we look forward to returning there again in 2020 on the same day for the same event.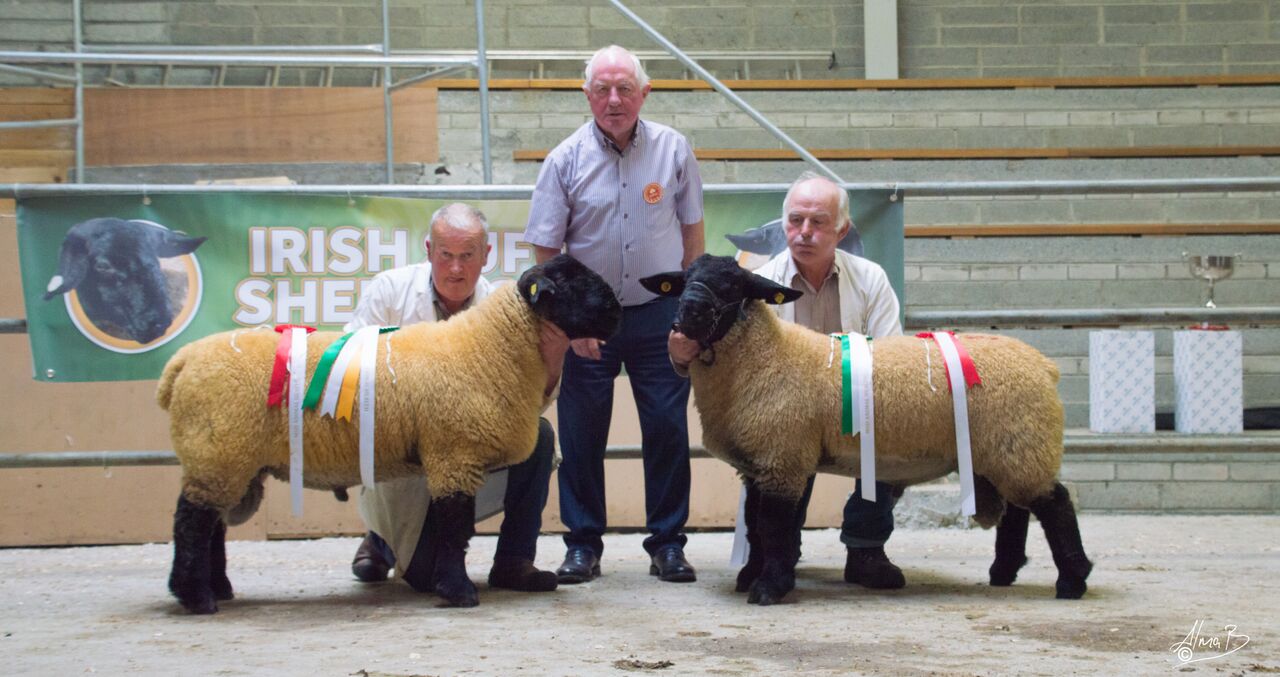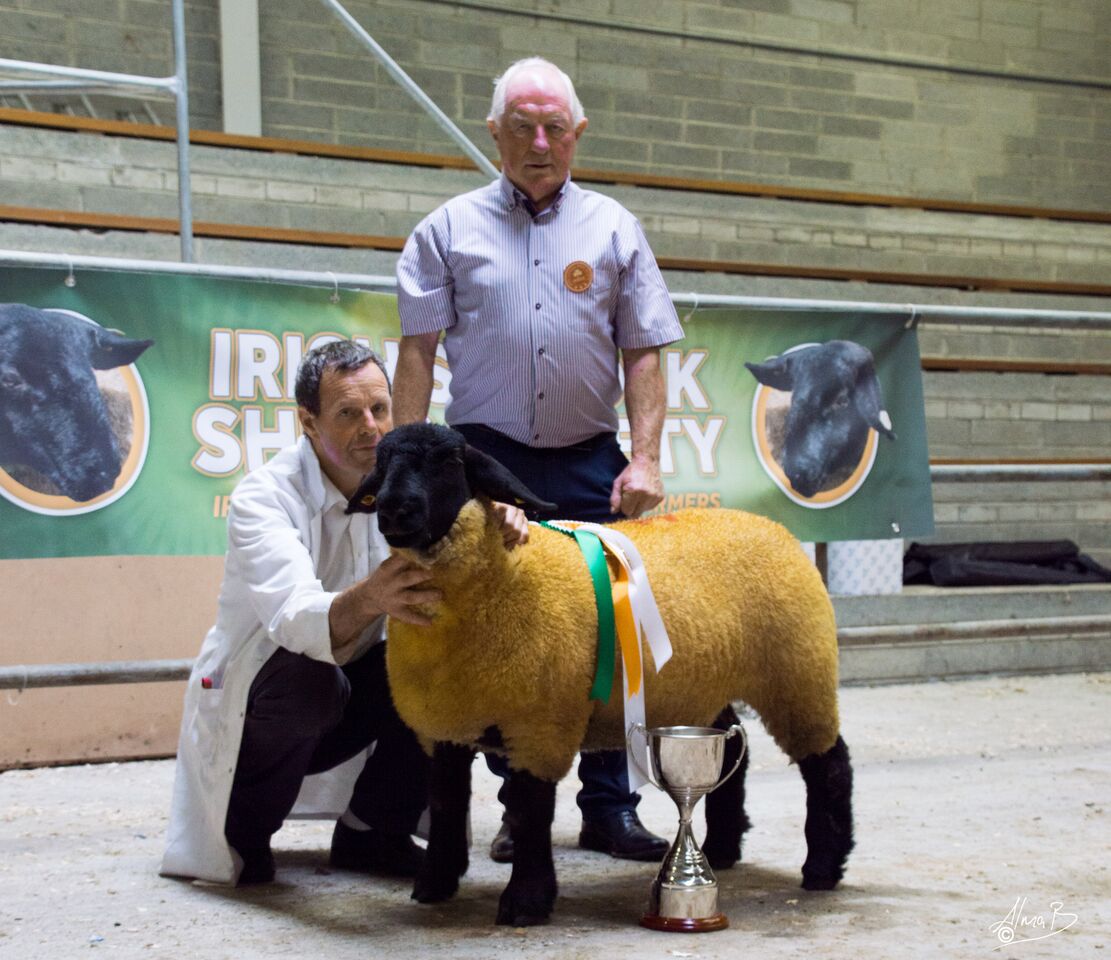 With over 90 members signed up already the Society is going from strength to strength. The onset of Brexit was the driving force behind the decision to set up the Irish Suffolk Sheep Society as previously the Society was affiliated to the Parent Body in Ballymena. We are a registered Company with the CRO: having our status recognised nationally and are registered with Revenue. We have our own Tax number and Bank Account. We have now been approved for EU Pedigree Registered Certification from the Department of Agriculture Food and the Marine under EU Regulation 2016/1012: this licence provides us with recognition of the Pedigree status of our sheep throughout Europe. Our Flock book is held by Sheep Ireland, a wholly Irish Company supported by the Irish Government and co funded by the Department of Agriculture this means that every sheep sold and purchased through us will have its Pedigree Registered Certificate.
The Officers of the Society are:
Chairman, Richard Moore: Richard's flock was set up by his late father in 1956 and is trading since.
Anne Mitchell, Hon Secretary: our flock was set up by my late spouse and myself fin 1975 and still trading.
Michael Clarke, Treasurer: Flock set up in 2000.
There is a Committee of 14 members all long standing breeders; all with an immense experience of breeding Suffolks successfully and recognising what the current commercial breeder wants in a ram.
In recent years farmers complained that the Suffolks presented for sale were too big i.e. big legs and big heads. Our aim is to produce hardier and more commercial type of Suffolk Sheep presented for sale in their natural state. The Suffolk is the oldest pedigree breed of sheep in the world having been in existence for over 130 years. The Irish Suffolk Sheep Society know that the commercial breeder and store lamb finisher recognises that no lamb will grow like a Suffolk and this fact is well documented by research carried out by TEAGASC. The TEAGASC flock is now a member of the Irish Suffolk Sheep Society.
Whether the commercial farmer is operating a fat lamb enterprise, a store lamb enterprise or looking to breed flock replacements the only one question to ask himself/herself is which type Suffolk ram they are going to buy. The answer is a Suffolk Ram presented in its natural state.