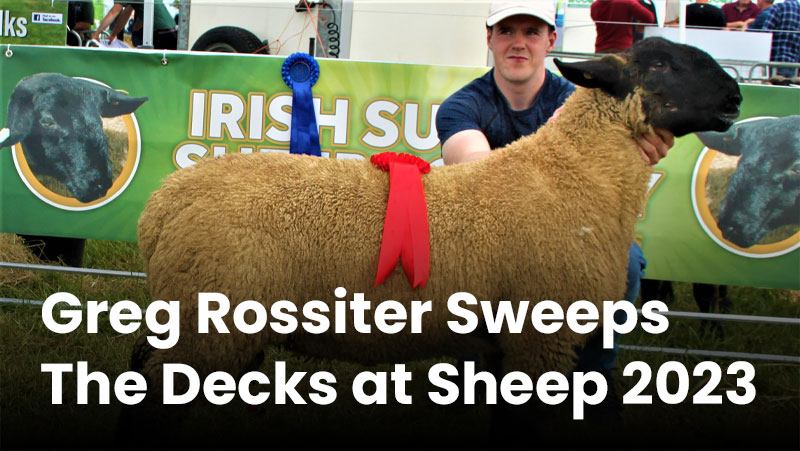 Our showing season got off to a fantastic start at Sheep 2023, held at the Gurteen Agriculture College. With two entries on the day, one in each of the FBD five-star ram lamb Lamb Plus classes, we returned home with success.
The Terminal Class was a highly fought contest with our ram lamb, 1784J, coming in second place. He had tremendous power, strength, and fleshing ability all of which are highly desired in the commercial market.
Our second entry was in the Replacement Class which saw his full brother, 1785B, take the honours. He possessed great quality and scope as an individual and has a great carcass. All perfect attributes for breeding ewes.
Both rams are full brothers out of IE044468801566G, who is from one of the very best lines in our flock. She is five stars for both terminal and replacement values. For a hogget to produce two lambs of such high class is exceptional and I look forward to seeing what she can produce in the future. She is a daughter of Finnvale Fury out of an Errigal Champ ewe 1326H. The Grandam 1326H bred the dam of our Roscrea 2022 ewe lamb who sold for €1,100.
The day was also a success for their Sire – Essie the Giant. We purchased the sire privately with Richard Moore and Michael Purcell of the Columbkille and Leaguan flocks respectively. Having previously had success with Essie Extra it was an easy choice to return to Irene Fowlie and the Essie flock where again it appears we have found a quality sheep. 'The Giant' is marking his stock with desirable essential traits for the commercial farmer all of which are seen within the Irish Suffolk Sheep Society.